The most popular roaring 20's party themes are Harlem nights, Speakeasy, and Great Gatsby. When you are deciding on what to choose for your 1920s party theme, it's important to realize that all three are very similar in décor and costumes. Harlem nights takes place in a nightclub like setting where supper and entertainment go hand in hand. Speakeasy themes are similar with added barrels of that "oh so good" prohibited drink of choice scattered around the room. If you can swing it (see what I did there?), make your event entrance unique just like in the prohibition days. A Great Gatsby event (also similar décor) usually celebrates a person of interest with extravagant colors and décor, but unless you can afford to pay a trapeze artist, these themes are very interchangeable, and it really depends on what you want to call it on the invitation.
How Should I Decorate for a Roaring 20s Party?
Whether you're hosting a small room for 20 people or a large event for 100, renting the decor is the most cost effective. Since each roaring 20's theme has similar style, below is a list of decorations that will work for all three. Some of these decorations can be included in a casino rental package from Eventricate, but prices vary and some are limited by demand. You can also find these by searching decoration retailers online.
Wall Decorations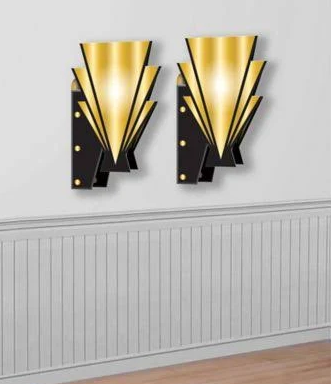 Sconces: Cardboard art deco wall sconces at 15″x 9.5″ dimensions. These can be stuck to the walls with double sided tape or adhesive putty.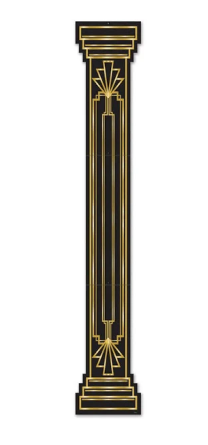 Columns: These 20's style columns are about 6′ tall cardboard and can be attached to the wall similar to the sconces above. Perfect for a Great Gatsby style event.
Centerpieces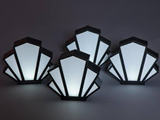 Fans: Plastic centerpiece for dining tables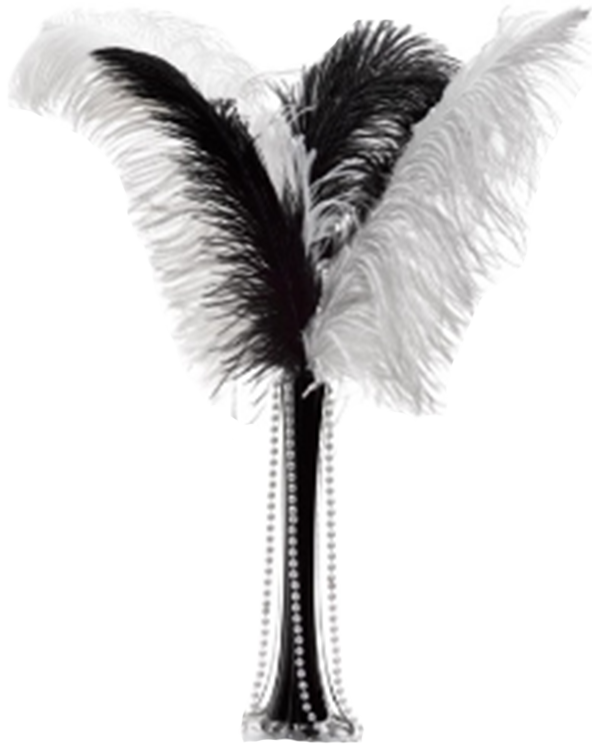 Vase: A glass vase with black and white feathers and hanging pearls.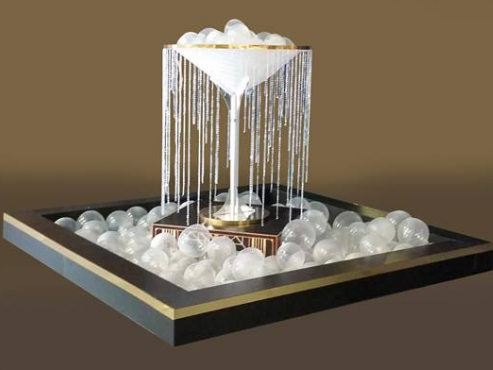 Mocktail Pool Kit: A large room centerpiece that can be used for an entrance or photobooth. 6′ tall and 9′ square (estimate). Large plastic martini glass filled with white balloons and fringe.
Backdrops

Peacock Flat Paper: A simple addition for covering wall space or columns depending on what type of venue you choose.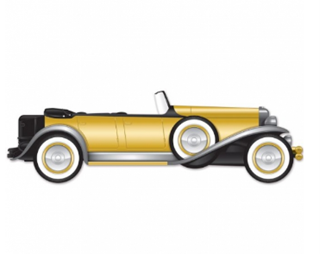 Roadster: A cute little addition for dead space on your walls.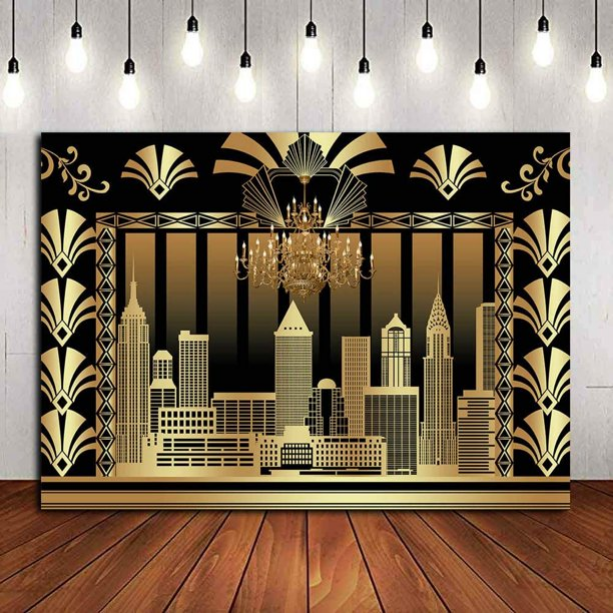 Photo Backdrop: A scenic view of a roaring 20's theme city skyline like this can be used for your photobooth or as a stage background for your live band.
Casino Tables
It's no surprise that casino tables should be included in your roaring 20's party because this time period was ripe with gambling, dancing, and rebelliousness. The number of casino tables you will need depends on the amount of space available, guests at your event, and additional activities. Usually, the player positions should make up 70% of the total number of guests if you are providing other activities like dancing, dining, and photobooths. Contact us today to learn more about our casino rental packages.
Additional Decorations
Balloon Arch: Black, silver, and gold balloon combinations woven into an archway for entrances or stage additions.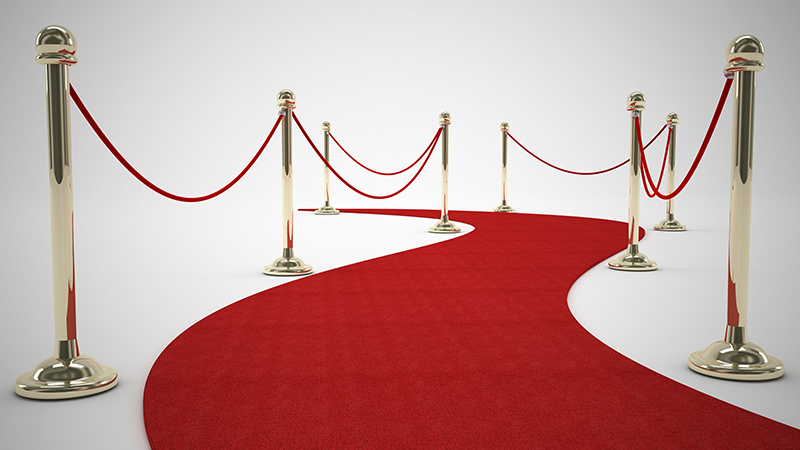 Red Carpet: A perfect walk up to any extravagant event.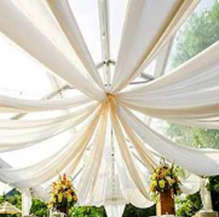 Sheer Ceiling Voile Curtain: This type of decoration takes a lot of labor for set and strike, but for outdoor events or tall ceiling indoor events, it will transform your ambiance to another level.
What Should I Wear for a Roaring 20s Party?
Flapper and Dapper! The roaring 20s gave birth to fashion, especially for men. Matter of fact, a lot of the current designs for suits and tuxedos started in this decade of celebration. Let's dive into what your guests should wear for your 1920s party.
Women as Flappers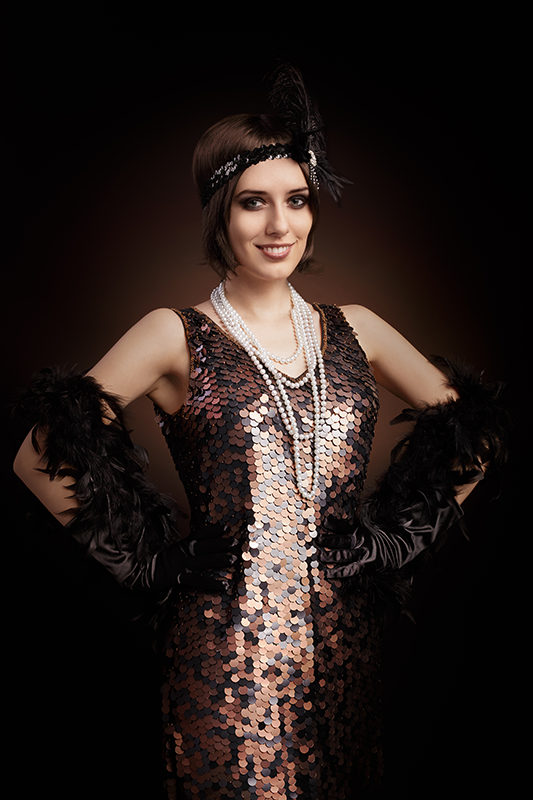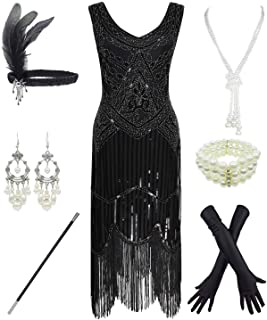 Flapper costumes are typically dresses stylized with fringe or sequins. Pearl necklaces, bracelets, and earrings. Long elbow gloves with a headband of feathers or flowers. You can also add a feathered scarf as an addition to this outfit.
Men Looking Dapper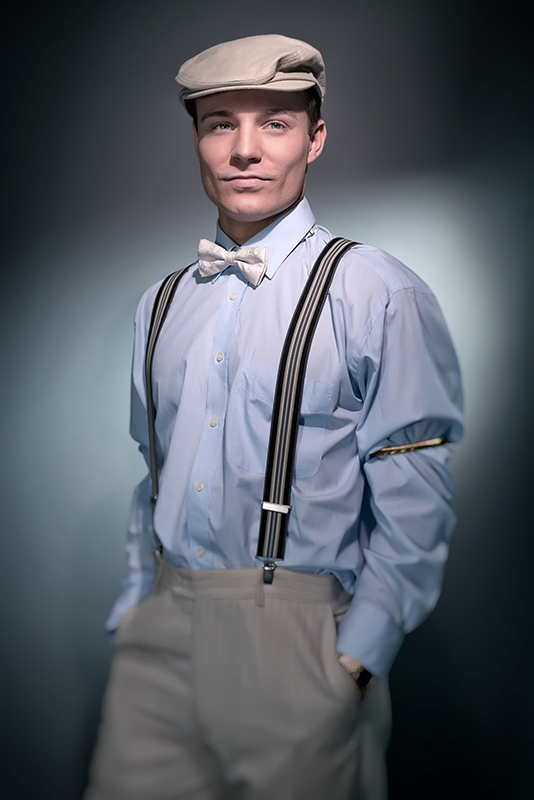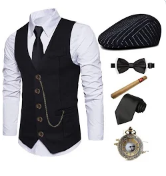 Dapper costumes are typically long sleeve collared shirt with a tie (bow/regular), dress pants, wing tip shoes/spats, stogey, and a pocket watch with visible chain.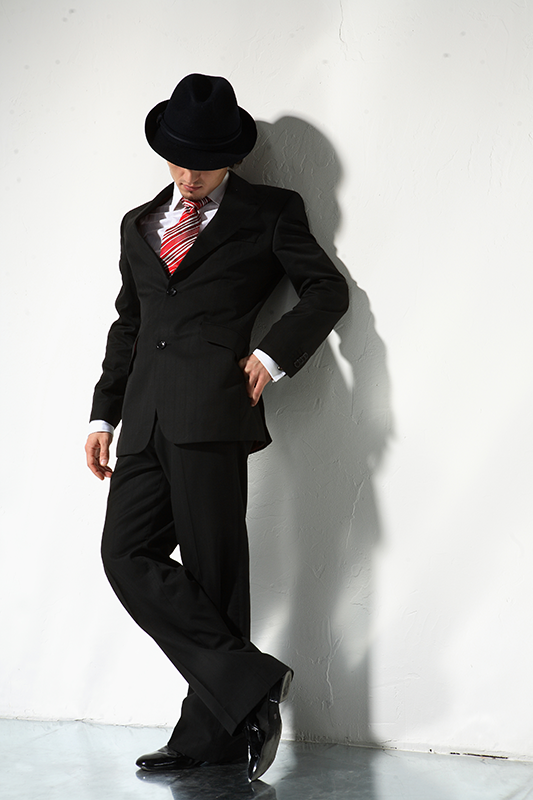 If your theme is a speakeasy, then you might want to have a more "gangster" like costume. In this case, you should wear a fedora with a colored band and a jacket. Add a white silk scarf for a Harlem nights theme.
Music for a Roaring 20s Party: Live or DJ?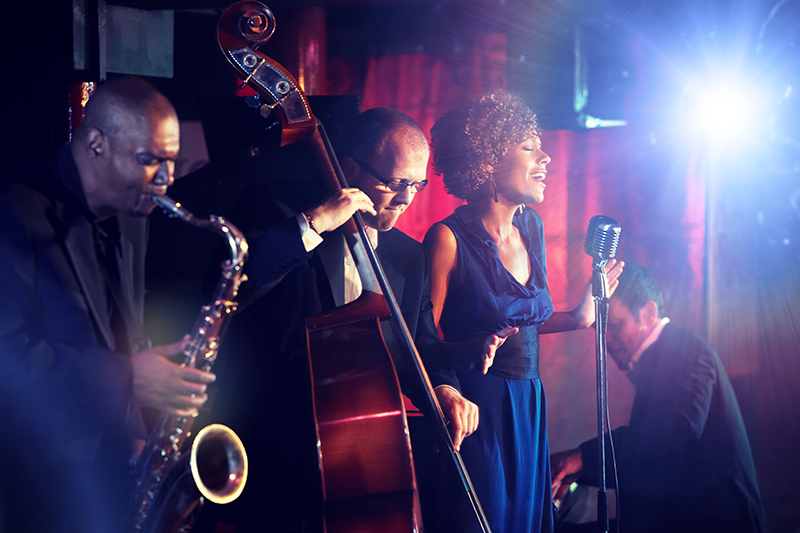 The right type of music is important for your event. If your budget allows it, you should pick a live band that specializes in jazz, blues, swing, ragtime or dance band. There were no laptops or turn tables in the prohibition days, but hiring a DJ is also acceptable.
What Food to Serve at a Roaring 20s Party
Proteins to have on the menu should be consistent with high class dining. A simple surf and turf will do the trick, but finger foods as appetizers should be indicative of the time period.